So I did it!!! It was such a blast, and I can't wait to do it again and improve my times, or do the Sprint which is twice as long. This was a perfect beginner Triathlon! It was a 200 yd. swim, 5 mile bike, and 1.5 mile run. I know, really short huh?! I didn't do as well as I wanted, but I did okay. I placed 12th out of 24 in my age group. I really need to work on my transition time, it was
way
too long.
Here we are in the transition area getting ready for the race.
Here I am after the race with my cute and patient family as they waited for me to finish. I know I look like a drowned rat, but I really did have fun, even though I don't look very happy.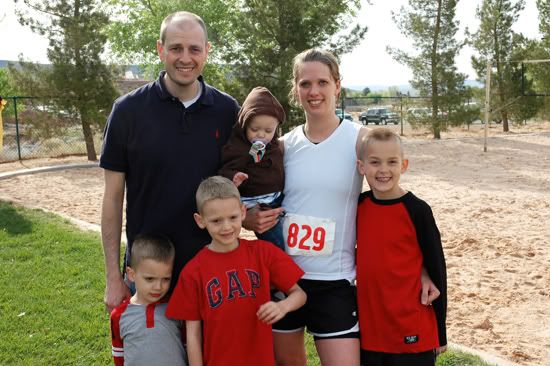 It was so fun to do this race with my Brother Ryan, Nikki (Ryan's girlfriend who kicked all our butts) and my sister Amy. We will all do it together again soon!